Whereas back at home you would tend to grab a slice of toast, a cup of coffee or maybe some fruit, in Thailand breakfast meals are very similar to those of the rest of the day. Taking a morning stroll throughout Thailand will reveal small family run restaurants and market stalls opening and dishing out bowls of rice and noodle dishes.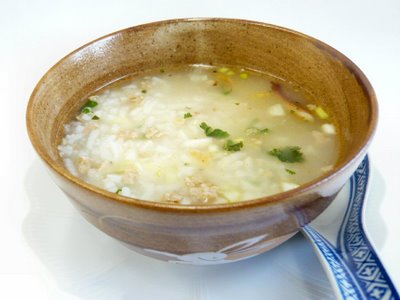 One of the most common meals eaten in the morning is Khao Tom. Khao Tom is a Thai soup that is made from rice. It is always savoury and often flavoured with vegetables and meats such as pork and sometimes shrimp. Noodle soup is also eaten for breakfast and for other meals throughout the day. The soup is very simple and is usually made with chicken stock, dry noodles, vegetables such as spring onion and contains meat such as pork and chicken. Soups are then flavoured with soy sauce and herbs such as coriander. They do vary slightly depending on the vendor.
Another item that is usually eaten for breakfast is Chok, which is a Thai style porridge. Whereas in the west porridge is made from oats, in Thailand this version made with rice and served as a savoury dish.
Simple dishes are also often served. For instance, it is common to see fried rice being eaten, which is flavoured simply with vegetables and chicken. Fried chicken or plain egg omelettes with a side dish of steamed rice and chilli sauce are also popular.
In regards to what is served as drinks to accompany meals, water is the most popular with locals also opting to drink straight from fresh coconuts by slicing open the top and inserting a straw. Homemade ice tea, which is often sweet, and coffee are also becoming increasingly popular beverages.