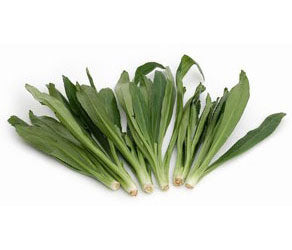 Thai Parsley

---

ผักชีฝรั่ง

Fresh Herbs

Our Price: £3.39 (inc. VAT)

Product Code: HB07

Postal Weight: 0.22 kg

Brand: Fresh Herbs

New

Share this product

---
Thai Parsley: Fresh Thai Produce (100 g)
Thai Name: Pak chee farang
Thai parsley is also known as pak chee farang in the Thai language. This diverse vegetable is a staple ingredient of a multitude of Thai dishes and cuisine. Thai parsley has the reputation of being a difficult herb to grow because its life span is so short lived and needs comparatively cooler temperatures to grow in abundance. This is why Thai parsley is mainly grown in the northern provinces of Thailand where the temperatures are much cooler than the tropical conditions of southern Thailand.
Thai Parsley is rich in irons, calcium and numerous nutrients, which makes the herb very good for your body. The flavour of the herb is strong and pungent, adding a certain element to dishes that you would immediately notice if the Thai parsley was taken out.
Variations of the plant grow in South America, Caribbean, Mexico, Thailand, Vietnam and generally throughout Asia. Within South American and Caribbean cuisines, Thai Parsley is used in a wide variety of stews and soups.
The flavor of the herb has been compared to coriander and used as a garnish for Thai dishes such as Thai Beef Salad (Yam Nua) and Laab Gai. Thai Parsley is also used in a variety of Thai spicy salads such as Som Tam, which are very popular within Thailand with locals and visitors alike.
Because Thai Parsley thrives in cooler temperatures, this means you will find the herb in a wide range of dishes in the northern provinces of the kingdom. Issan cuisine, from northeast Thailand is famous across the country and uses Thai Parsley in a number of salads and as a garnish for most meals. Issan food is popular, and you will find many Issan restaurants in every region of Thailand, even in the south, which is usually influenced more by Malaysia.
Product of Thailand
These are just some of the Thai recipes that it is used in:
Similar items that may be of interest to you
Customers who bought this item also bought
Disclaimer: Although we make every effort to ensure product information is correct and up-to-date, we are not responsible for typos, inaccuracies or mis-information on this site. Actual product packaging and materials may contain more and/or different information than that shown on our web site. We recommend that you do not solely rely on the information presented and that you always read labels, warnings, and directions before using or consuming a product, especially if you suffer from food allergies.