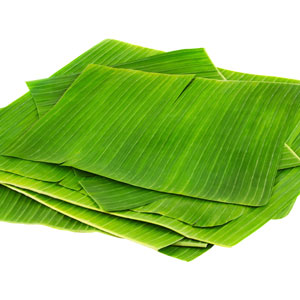 Banana Leaf

---

ใบตอง

500g -Fresh Produce

Our Price: £6.99 (inc. VAT)

Product Code: VE04

Postal Weight: 0.55 kg

Brand: Fresh Vegetable

New

Share this product

---
Banana Leaf (500g)
Thai Name: Bai tong
You will usually get four whole banana leaves, each leaf approximately 18 inches x 36 inches in size.
In certain areas of Thailand, most notably the southern regions, Banana Leaf features high on the list of staple ingredients used in the preparation of local dishes. One distinct difference between Banana Leaves and other ingredients, is that the Banana Leaf is most often used as a wrapping or container for the completed item of food. For example, they may be used to wrap fish before it is barbequed or to hold rice which is being steamed or baked. Using Banana Leaf in this way also adds a flavour and aroma to the food during the cooking stage.
Banana Leaves need to be kept fresh, so that they remain supple and can be made into wraps easily, the best way to store them is in an air tight plastic bag within a refrigerator.
The most distinctive way in which Banana Leaves are used in Thai cooking, is the way they are used to make Haw Mok dishes, which is a way of preparing a Thai curry, inside a small cup which is made from Banana Leaves. Usually, this will be a fish curry (Haw Mok Plaa), but it can be made of pork, chicken, or even just vegetables. Most Haw Mok type curies will contain coconut, making them rich and creamy; they are particularly popular in the South of Thailand.
Another popular use of Banana Leaves in Thai cuisine is to wrap whole leaves around a fresh fish, which has been gutted and stuffed with a mixture of herbs and garlic and spices. The fish is then baked in a hot oven for around 20 minutes, the moisture from the Banana Leaf keeps the fish from becoming too dry, and the result is a succulent, aromatic and tasty dish, which could not be prepared in any other way.
Fresh produce from Thailand.
Similar items that may be of interest to you
Customers who bought this item also bought
Disclaimer: Although we make every effort to ensure product information is correct and up-to-date, we are not responsible for typos, inaccuracies or mis-information on this site. Actual product packaging and materials may contain more and/or different information than that shown on our web site. We recommend that you do not solely rely on the information presented and that you always read labels, warnings, and directions before using or consuming a product, especially if you suffer from food allergies.