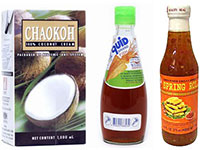 Thai Food Shop
---
Finding all your ingredients in our online Thai food shop is a lot easier than going to your local supermarket!
Rather than making a trip to your local supermarket and being disappointed in not finding the ingredients that you are searching for, why not browse our website from the comfort of your chair safe in the knowledge you will find all the Thai ingredients that you require. All our products are authentic Thai products imported in from Thailand and not the western substitutes you see on the supermarket shelves in the UK and Europe. There is a definite difference in the taste of the recipes cooked with authentic Thai products compared to the supermarket copies.
You can use our search facility on top of the left hand menu and type in what you require, or you can click on the category section on the links in the menu and browse through what we have in stock. If you have a favourite brand, you can simply select this from the drop down under the 'Search by brand' section on the left hand side. This will then list all the products we have in stock for that particular brand. If you wish to cook a specific Thai recipe, why not click on the Thai recipe link at the top of the page and see if we have the recipe you are looking for. If we do, you can easily order all the ingredients for that recipe at the click of a button, something you certainly wouldn't be able to do in a bricks and mortar Thai food shop!
We deliver to everywhere in the UK and EU, including the Channel Islands, Scottish highlands & islands and Northern Ireland. So wherever you live, you can enjoy the wonderful taste of Thai food! All you will need to add is the fresh poultry, seafood, or any other meat that you need for your particular recipe.