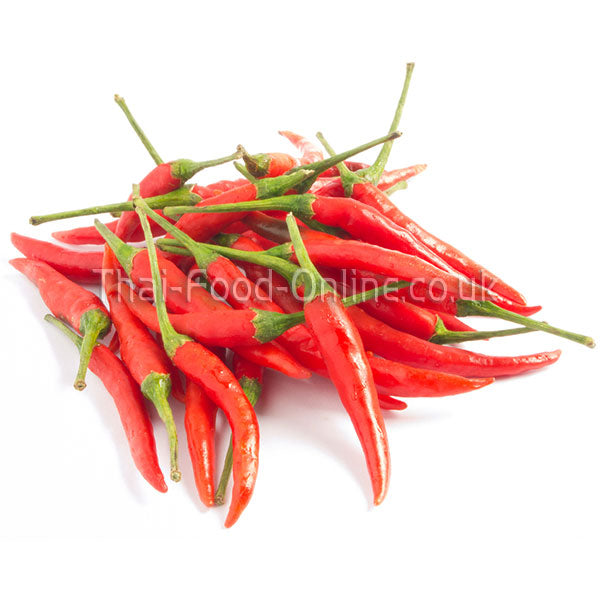 Small Red Chillies

---

พริกขี้หนูแดง

100g - Fresh Produce

Our Price: £2.29 (inc. VAT)

Product Code: SP01

Postal Weight: 0.11 kg

Brand: Fresh Spices

New

Share this product

---
Small Red Chillies / Peppers (100g)
Thai Name: Prik Ki Noo Dang
There are many different types of chilies found in Thailand, hence the common belief that all Thai dishes are extremely spicy, but actually these different chilies are used in many different ways and can create a wide variety of flavors.
The small Thai red chili is about one inch in length but packs a serious punch for its small size. The small red Thai chili is the hottest of the pepper family. Sometimes red chilies are served raw, or in fish sauce to garnish a dish. Other times they are stir-fried right in with your entree, or they may also be dried in the sun and ground into a powder to be added to a dish at your own discretion.
Regardless of the form these chilies are very popular in Thai cuisine and a prominent ingredient in such popular dishes as chicken basil/krapow kay, chicken in coconut soup/tom kha kay, fried rice of any style/khaaw pad, as well as fried king mackerel/plaa inseed thaut.
Fresh product of Thailand.
These are just some of the Thai recipes that it is used in:
Similar items that may be of interest to you
Customers who bought this item also bought
Disclaimer: Although we make every effort to ensure product information is correct and up-to-date, we are not responsible for typos, inaccuracies or mis-information on this site. Actual product packaging and materials may contain more and/or different information than that shown on our web site. We recommend that you do not solely rely on the information presented and that you always read labels, warnings, and directions before using or consuming a product, especially if you suffer from food allergies.