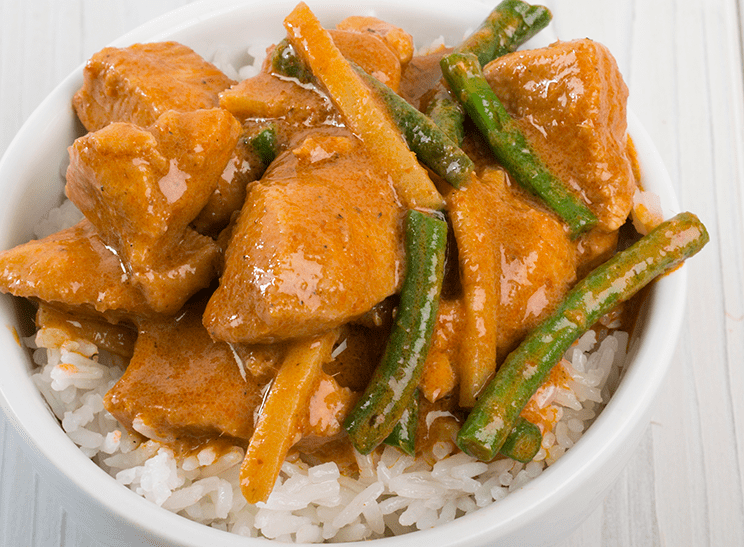 Order ingredients in 1-click
Please note that occasionally some products might be out of stock
THAI RED CURRY RECIPE (GAENG PHED GAI)
---
Thai Red Curry (Gaeng Phed),is possibly the most well known of all curries in Thailand. It is available everywhere, and is listed upon every restaurant menu. Popular with both Thais and foreign visitors and noted for its fiery yet rich taste.
Thai Red Curry can be made using chicken, beef, duck or pork, and is seldom made from any form of seafood except shrimp or prawns. The overall flavour of the Thai Red Curry is dictated by the quality of the curry paste used during preparation. Within Thailand, curry paste is made and sold as a raw ingredient in its own right, and is usually sold at local markets. A good curry paste vendor will always be successful, as people rely upon quality curry paste to produce the very best tasting curries.
Most people will have encountered the form of red curry which is served as a soup, thick and creamy containing coconut milk. However, there is another variety of Thai Red Curry, which is equally popular. This form of curry, known as Pad Prick Gaeng is fried, and instead of being served as a soup with thick sauce in a bowl, it is served on a plate, with very little sauce at all.
When eaten as part of a main meal, Red Curry will usually be the main dish, and will be placed in the centre of the table, other dishes will be prepared to support it, and provide vegetables and a variety of other tastes. Both the soup style, and the fried variety, will usually be served straight on to the diner's plate, from the main central serving bowl or dish.
Both types for Thai Red Curry are prepared using the same basic ingredients which include basil leaves, bamboo shoots, eggplant, fish sauce, lemongrass, kaffir lime, shrimp paste, galangal, garlic, shallots and of course chillies. Where they differ is in the addition of coconut milk, and in the actual cooking method.  The soup for of Red Curry will have coconut milk added to the broth, making it creamy and thick, and will then be cooked in a pan by simmering. The fried version does not have any coconut at all, and the ingredients are stir friend in a wok or sauce pan.
Whether soup or fried, Thai Red Curry is a tasty dish, and one that is well worth learning to prepare correctly.
INGREDIENTS (FOR FOUR PEOPLE)
Note:
These are the recommended amounts required for a meal for four people. Please adjust the amounts accordingly for more or less people. Also you might already have some of these Thai food ingredients in your larder, so please set the quantity to zero for any ingredients that you already have. All our fresh Thai products are flown in direct from Thailand once a week, ensuring you get the best quality fresh Thai food products. Using fresh Thai produce will ensure you get an authentic taste.
MORE ABOUT THIS RECIPE

INSTRUCTIONS
Preparation Time: 20 minutes
Cooking Time: 40 minutes
Ready In: 1 hour

1. Cut the chicken up into smallish bite size pieces (Tip: try and use breast or leg meat). Thinly slice the bamboo shoots (if not already sliced).
2. Pour 1 cup of coconut milk into a wok. Bring to a boil over medium high heat, stirring constantly. Add the curry paste and stir until red oil comes to the surface. Add the chicken and sauté until it turns white and is cooked through.
3. Add the remaining coconut milk, follow with the bamboo shoots, small eggplant and lime leaves. Season with fish sauce, sugar, and salt and bring back to a boil.
4. Garnish with Thai basil and chopped Thai red chilli. Serve with lots of fragrant Thai jasmine rice.

NUTRITIONAL INFO
Amount per serving
Calories:

300

Protein:

26g

Fat:

17g

Saturated fat:

9g

Carbohydrate:

13g

Fiber:

4g

Sodium:

94mg

Cholesterol:

58mg
Rated
4.7
/5 based on
227
customer reviews
CELEBRITY TESTIMONIALS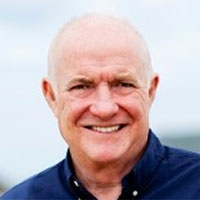 RICK STEIN

BESTSELLER AUTHOR
What's more, thai-food-online.co.uk has been listed as the recommended suppliers to get authentic...
Read full endorsement
Dean Banks

Master Chef's Finalist
My experience with Thai Food Online has been great so far.  I feel the pricing is so great compared to ....
Read full endorsement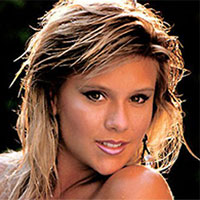 After ordering her ingredients from Thai Food Online, Sam Fox serves up a tasty meal and proves...
Read full endorsement