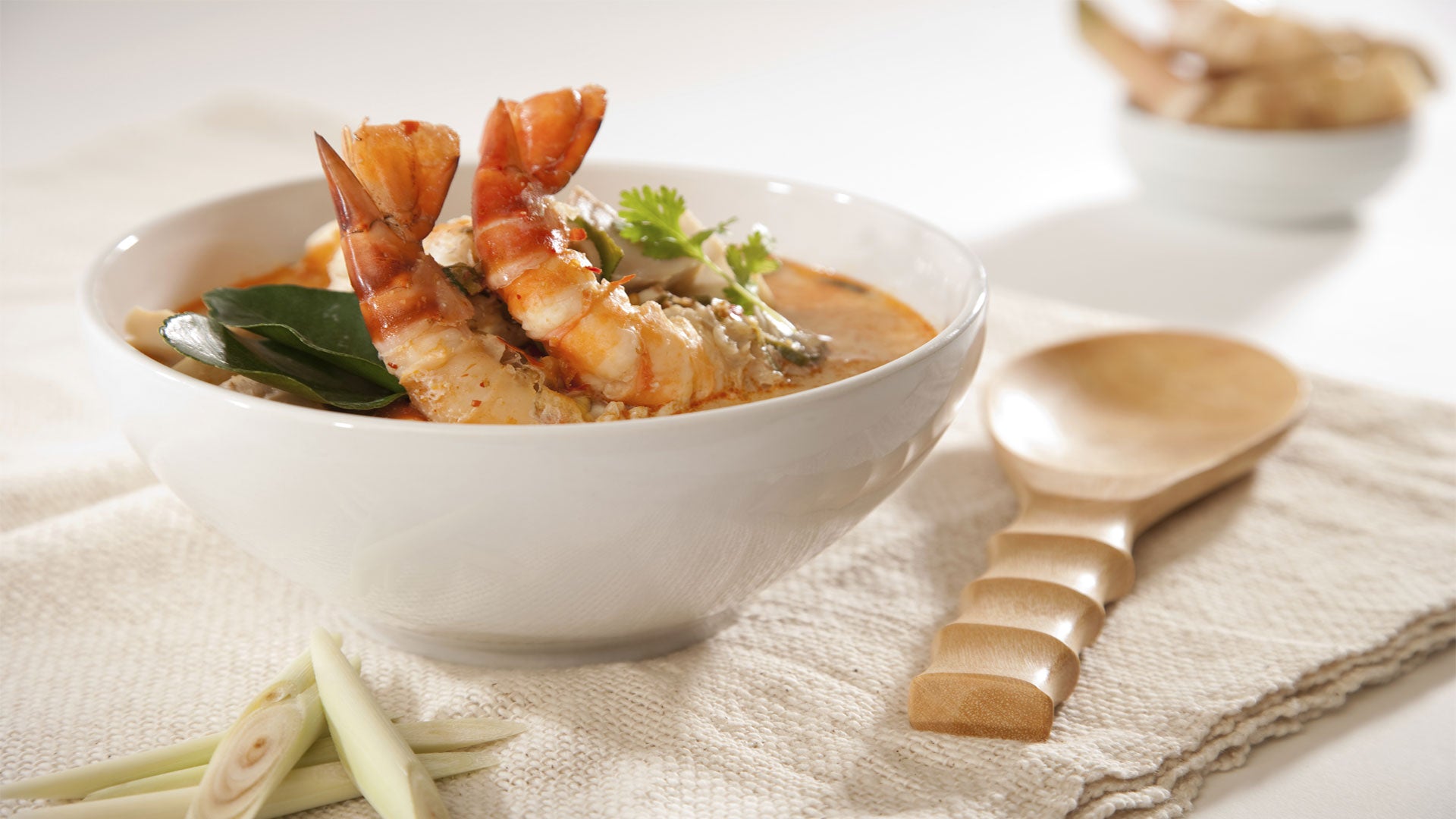 Order ingredients in 1-click
Please note that occasionally some products might be out of stock
THAI PRAWN/SHRIMP SOUP (TOM YUM KUNG)
---
Tom Yum can be considered the national dish of Thailand. It is eaten everywhere by every person, and is a firm favourite with tourists as well. Tom Yum is usually ordered with shrimp (Tom Yum Kung) but can also be made with other types of seafood, chicken, pork, or even tofu.
The soup is thin, and has a hot and sour flavour. It is eaten with rice, and will often be accompanied by a variety of side dishes. One of the most popular side dishes ordered with Tom Yum Kung is Thod Man Kung (fried shrimp cakes), which are then dipped into the soup itself and eaten.
Tom Yum shares almost all ingredients with Tom Kha, another popular Thai soup dish, although unlike Tom Kha, Tom Yam does not have coconut milk added to the soup to thicken it and give it a creamier taste.
Herbs and spices added to the broth include chilli, fish sauce, galangal, kaffir lime and lemon grass, and these each add to the distinctive Tom Yum flavour in their own way.
The real trick to making the best Tom Yum is to use only the very freshest ingredients, and in the case of prawn or shrimp, this means as close to straight from the sea as is possible. Local fish markets would be the best place to find these, do not be tempted to use pre-frozen supermarket produce, the prawns need to be very fresh so that their taste creeps into the soup.
There are two slight variants to Tom Yum, the first of these being Tom Yum Nam Khon. In this version, milk is added to the soup to make it taste creamier. The second different version of Tom Yam is Tom Klong, where Thai chilli jam is added to the broth, this produces an orange coloured soup with a much stronger chilli taste.
The most different version of Tom Yum is made in Laos, and is often named Royal Laos Tom Yum. This type of Tom Yum is seldom eaten outside of Laos. The only difference between Laos Tom Yum and Thai Tom Yum is that in the Laos version a small quantity of rice is added to the soup whilst it cooks.
Overall, Tom Yum is one of the tastiest Thai dishes, as well as one of the easiest to cook. The ingredients are simple to prepare, and as long as they are used in the right quantities, the perfect results should be achieved every time.
Frequently Asked Questions
Is Thai Prawn Soup healthy?
Containing a variety of fresh herbs, spices and vegetables,Thai prawn soup or Tom Yum is considered to be one of Thailand's healthiest dishes. The prawns provide a great source of iron, vitamin B-6 and B-12, this soup has also been known to improve cold and flu symptoms such as soar throats and blocked sinuses. Thai prawn soup is lower in fat compared to other traditional Thai soups which use coconut milk. Our recipe contains only 119 calories, however it can be adjusted to have fewer than 100 calories.
Why is my soup bitter?
Thai prawn soup should not taste bitter. If your Thai prawn soup is bitter, you may have used a whole lime in the recipe instead of just lime juice. This comes from the lime rind (skin) and can be difficult to eliminate once added to the soup. To prevent your soup from being bitter, we recommend only using lime juice and whole limes in the recipe. You can, however, use fresh lime slices to garnish the dish after the cooking process. 
How long can I store the soup?
While Thai prawn soup can last in the fridge for up to 5 days, for the best flavour, we recommend storing and consuming freshly made Thai soup for 1-2 days.
Can Thai prawn soup be frozen?
Some people like to freeze Thai prawn soup, however, because this recipe uses fresh seafood we do not recommend freezing it. Fresh ingredients such as the lemongrass, kaffir lime leaves and galangal may be affected by the freezing process and affect the taste. If you are looking for Thai prawn/tom yum soup which can be stored long term, we recommend buying canned Tom Yum soup instead of making it fresh.
Why are my prawns mushy?
Always be sure to use good quality fresh prawns for the best results. If you are using good quality prawns and they become mushy in this recipe, you may have cooked them for too long. This is common when the prawns are smaller. For Thai prawn soup, we recommend boiling the prawns for roughly 2-3 minutes until the flesh turns pink. 
What should my homemade Thai prawn soup taste like?
Thai prawn soup should be the perfect balance between a hot and sour soup with fragrant zest from the fresh thai herbs and spices. If your soup is too far on either end of the scale, it may not taste like an authentic Thai tom yum soup. 
If it is only hot, you have added too much chilli paste or fresh chillies. If it is too sour, you have added too much lime juice or other fresh ingredients such as galangal, kaffir lime leaves, lemongrass or coriander root. Thai prawn soup should also be light, be sure not to use any thickening agents or add too many prawns to the recipe. 
INGREDIENTS (FOR FOUR PEOPLE)
Note:
These are the recommended amounts required for a meal for four people. Please adjust the amounts accordingly for more or less people. Also you might already have some of these Thai food ingredients in your larder, so please set the quantity to zero for any ingredients that you already have. All our fresh Thai products are flown in direct from Thailand once a week, ensuring you get the best quality fresh Thai food products. Using fresh Thai produce will ensure you get an authentic taste.
MORE ABOUT THIS RECIPE

INSTRUCTIONS
Preparation Time: 10 minutes
Cooking Time: 15 minutes
Ready In: 25 minutes

1. Wash the prawns and shell them without removing the tails. Bring the Tom Yum broth to a boil.
2. Add lemongrass, galangal and lime leaves.
3. Bring back to a boil then add mushrooms, fish sauce, chilli paste and lime juice.
4. Add prawns and fresh chillies.
5. As soon as prawns turn pink (cooked through) serve garnished with Thai coriander.

NUTRITIONAL INFO
Amount per serving
Calories:

119kcal

Protein:

4.8g

Fat:

2.4g

Carbohydrate:

25.1g

Fiber:

2.4g

Sodium:

2398mg

Cholesterol:

1mg
Rated
4.9
/5 based on
2214
customer reviews
MORE THAI STARTER RECIPES
CELEBRITY TESTIMONIALS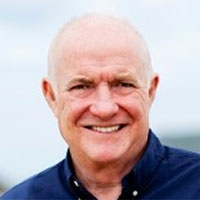 RICK STEIN

BESTSELLER AUTHOR
What's more, thai-food-online.co.uk has been listed as the recommended suppliers to get authentic...
Read full endorsement
Dean Banks

Master Chef's Finalist
My experience with Thai Food Online has been great so far.  I feel the pricing is so great compared to ....
Read full endorsement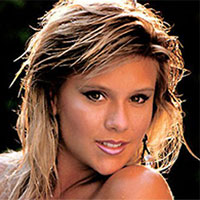 After ordering her ingredients from Thai Food Online, Sam Fox serves up a tasty meal and proves...
Read full endorsement