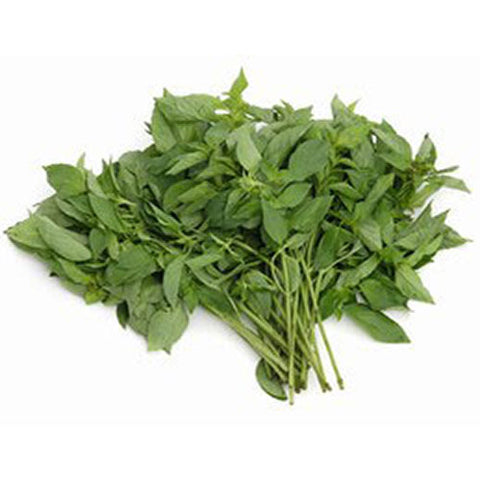 Thai Basil (Sweet)

---

โหระพา

Fresh Herbs

Our Price: £3.69 (inc. VAT)

Product Code: HB03

Postal Weight: 0.11 kg

Brand: Fresh Herbs

New

Share this product

---
Thai Basil (Sweet): 100g
Thai Name: Bai Holapa / โหระพา
Thai basil (or holapa leaf) has deep green leaves with purplish flower buds and stems. It has an aniseed flavour on top of its sweet basil scent. Add a handful of whole leaves to curries.
Three varieties of the wonderfully fragrant herb – basil – are found in tropical Asia. However the three plants are distinctly different in appearance and flavour. The closest to European or sweet basil is the variety most commonly encountered in the region, especially in Thailand and Vietnam. This basil, which is known as bai holapa in Thailand, has intensely aromatic dark green leaves and purplish flower heads. It is often eaten raw as a herb in Thailand served on a platter of fresh herbs which are added to lettuce wrappers for enclosing spring rolls, or nibbled with raw vegetables and a spicy dip. This basil is also added (often by the handful) to stir-fried chicken or beef, or to curries, particularly in Thailand.
Botanical Name: Ocimum Basilicum.
Product of Thailand
These are just some of the Thai recipes that it is used in:
Similar items that may be of interest to you
Customers who bought this item also bought
Disclaimer: Although we make every effort to ensure product information is correct and up-to-date, we are not responsible for typos, inaccuracies or mis-information on this site. Actual product packaging and materials may contain more and/or different information than that shown on our web site. We recommend that you do not solely rely on the information presented and that you always read labels, warnings, and directions before using or consuming a product, especially if you suffer from food allergies.