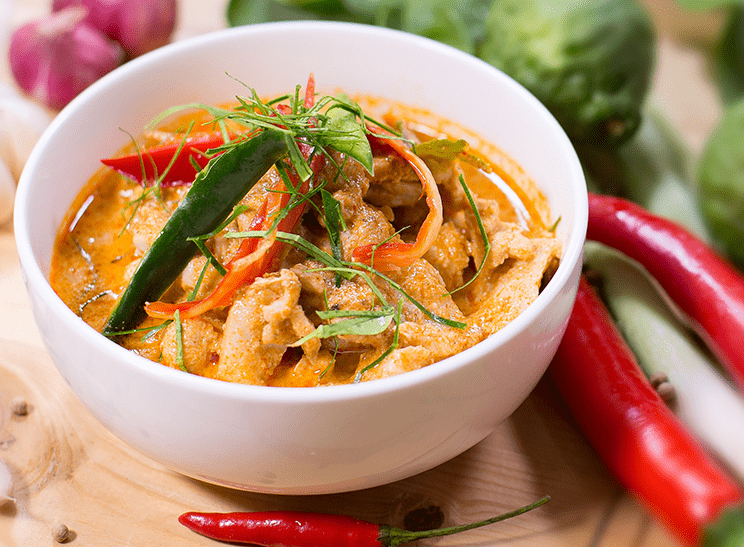 Order ingredients in 1-click
Please note that occasionally some products might be out of stock
THAI CHICKEN PANANG CURRY RECIPE (PANANG GAI)
---
Originating in central Thailand, Panang Curry (also known as Phanaeng) is a delicious sweet and salty peanut flavoured curry with a unique taste that distinguishes it from other classics. Thai curries are known for being creamy due to coconut milk but panang curry is the thickest and creamiest curries of them all, with a rich and aromatic flavour
Unlike other Thai curries, this one is all about the meat and minimal vegetables with beef being the most commonly used meat ingredient in panang curry. While beef is the most common meat ingredient, other options such as chicken, pork, liver and fish can be used as good substitutes if preferred and despite not needing vegetables, small bitter eggplants can be added to infuse more depth of flavour and texture in a panang recipe. 
In some parts of Thailand, traditional regional variations of the recipe exist such as Thai chicken panang; this can be found available in local restaurants of specific cities. A chicken panang recipe is typically a balance of sour and spicy rather than the sweet and spicy of beef panang, although this can simply depend on the chef. There are also seafood variations which are more common to coastal locations in Thailand where ingredients such as shrimp, crab and squid are more accessible, affordable and fresh. 
Due to its strong flavour, panang curry can be quite the challenge to eat even for Thai people. A plate of this curry is usually eaten quite slowly, allowing the taste buds to recover between spoonfuls. Also due to this taste, it is often ordered as an accompaniment to beer or whisky, much in the way we order bar snacks in the western world. It is quite a culinary experience to set your taste buds afire with a spoon of spicy Thai Salad, and then drink a little beer to help soothe the burning sensation, and take away the sour taste.
INGREDIENTS (FOR FOUR PEOPLE)
Note:
These are the recommended amounts required for a meal for four people. Please adjust the amounts accordingly for more or less people. Also you might already have some of these Thai food ingredients in your larder, so please set the quantity to zero for any ingredients that you already have. All our fresh Thai products are flown in direct from Thailand once a week, ensuring you get the best quality fresh Thai food products. Using fresh Thai produce will ensure you get an authentic taste.
MORE ABOUT THIS RECIPE

INSTRUCTIONS
Preparation Time: 5 minutes
Cooking Time: 15 minutes
Ready In: 20 minutes

1. Cut the chicken into edible chunks (about 1 inch). Shred both the kaffir lime leaves and the basil leaves, making sure the basil leaves are shredded quite fine.
2. Heat half the coconut milk in a wok till the oil appears on the surface. Then add the curry paste and stir continuously till the red oil separates.
3. Add the chicken and cook for about five minutes till it's done. Then add the remaining ingredients (apart from kaffir leaves and basil leaves) and stir well. Simmer for about fifteen minutes.
4. Add the shredded kaffir lime leaves and basil leaves and stir fry for a couple of minutes.
5. Garnish with sliced red chillies. Serve hot accompanied by Thai jasmine rice

NUTRITIONAL INFO
Amount per serving
Calories:

376

Protein:

46g

Fat:

17g

Saturated fat:

12g

Carbohydrate:

9g

Fiber:

2g

Sodium:

306mg

Cholesterol:

121mg
Rated
4.9
/5 based on
611
customer reviews
CELEBRITY TESTIMONIALS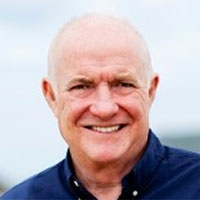 RICK STEIN

BESTSELLER AUTHOR
What's more, thai-food-online.co.uk has been listed as the recommended suppliers to get authentic...
Read full endorsement
Dean Banks

Master Chef's Finalist
My experience with Thai Food Online has been great so far.  I feel the pricing is so great compared to ....
Read full endorsement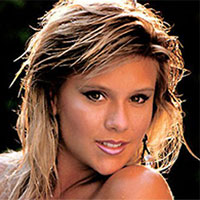 After ordering her ingredients from Thai Food Online, Sam Fox serves up a tasty meal and proves...
Read full endorsement