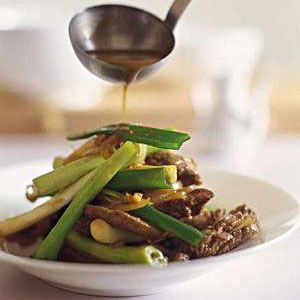 Order ingredients in 1-click
Beef In Oyster Sauce Recipe (Neur Pad Num Mun Hoy)
---
Beef in Oyster Sauce is not a native Thai dish, although it remains one of the most popular dishes in Thailand. Instead, it is influenced by Chinese cuisine, as many Thai dishes have been, due to the high volume of Chinese people that live within its borders. As with any dish which the Thai people have found to be tasty, they have adapted it slightly to their own tastes, and Beef in Oyster Sauce prepared in Thailand tastes significantly different to the same dish prepared in a Chinese restaurant.
The main difference between the Thai ways of preparing Beef in Oyster sauce, and the traditional Chinese way, is the inclusion of chillies in the ingredient list. However, chillies are used sparingly in this dish, simply to give an undertone of spiciness, and the major flavours come from the oyster sauce and the beef itself.
Chinese Kale is a major part of the recipe, which also helps to give Beef in Oyster Sauce a distinctly different taste from most other Thai dishes. Chinese Kale is only ever used in Thailand when a Chinese style dish is being prepared, and is never found in traditional Thai food.
When Beef in Oyster Sauce is served as part of a meal, it is generally as a side dish. Because the dish is served with many vegetables, it is consumed as a vegetable dish, with the beef adding a different flavour. Again, this is probably due to its Chinese roots, with the local Thai people being unwilling to give it centre stage over one of their own traditional dishes.
For tourists visiting Thailand, Beef in Oyster Sauce makes a great choice of main dish, due to the fact it is seldom very spicy. Many people who have previously eaten in a Chinese restaurant will feel right at home consuming this dish in Thailand, something familiar upon and unfamiliar menu.
Unlike most Thai dishes which are stir fried, Beef in Oyster sauce is cooked at a medium heat for a longer period. Thai food tends to be cooked quickly, leaving the vegetables crunchy, Beef in Oyster Sauce is cooked slowly, which allows the vegetables to soften, and a larger quantity of sauce to be produced.
When served, it is placed upon a plate, and the sauce which has accumulated in the bottom of the woks is drizzled across it, and it is then served straight to table.
INGREDIENTS (FOR FOUR PEOPLE)
350 grams Beef (sliced)
200 grams of Chinese Kale (1 inch pieces)
1 Tablespoon Thai Garlic (minced)
2 tablespoons Soy Sauce
1 Thai Red Chilli (cut diagonally)
5 Spring Onions (1 inch pieces)
1 Tablespoon Palm sugar
3 Tablespoons Oyster Sauce
1 Tablespoon Cooking Wine
1 Tablespoon Cornstarch
Carrot, Broccoli and other fresh vegetables (optional)
1 tablespoon Vegetable oil
Note:
These are the recommended amounts required for a meal for four people. Please adjust the amounts accordingly for more or less people. Also you might already have some of these Thai food ingredients in your larder, so please adjust the quantities for any ingredients that you already have.
MORE ABOUT THIS RECIPE

INSTRUCTIONS
Cooking Time: 15 minutes.
1. In a medium sized bowl, add the beef, garlic, soy sauce, sugar and cornstarch. Stir them until they are mixed well and let the mixture marinate for about half an hour.
2. Heat the cooking oil in a wok over medium heat. Add marinated beef and stir fry until nearly cooked. Then add Chinese kale, chilli, spring onions, cooking wine and oyster sauce. Stir fry until all ingredients are mixed in well and the beef is cooked thoroughly.
3. Transfer to a serving dish (over fried Chinese kale). Serve immediately with hot Jasmine rice.

CELEBRITY TESTIMONIALS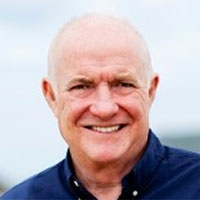 RICK STEIN

BESTSELLER AUTHOR
What's more, thai-food-online.co.uk has been listed as the recommended suppliers to get authentic...
Read full endorsement
Dean Banks

Master Chef's Finalist
My experience with Thai Food Online has been great so far.  I feel the pricing is so great compared to ....
Read full endorsement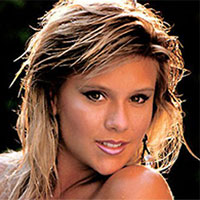 After ordering her ingredients from Thai Food Online, Sam Fox serves up a tasty meal and proves...
Read full endorsement