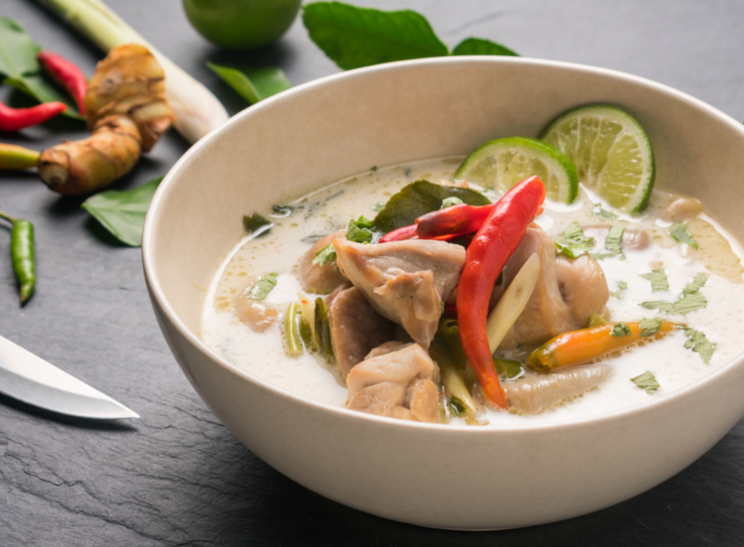 Order ingredients in 1-click
Please note that occasionally some products might be out of stock
THAI CHICKEN SOUP IN COCONUT MILK (TOM KAH GAI)
---
Tom Kha Gai is a spicy coconut flavoured chicken soup, one that is popular with both Thais and people visiting the nation of Thailand.
Tom Kah Gai is very similar to the Thai national dish of Tom Yum, and the process involved in preparing both dishes is almost identical. The major difference between the two is that Tom Kha adds coconut milk to the soup, making it creamier, and slightly sweeter.
The spices and seasoning used to make Tom Ka Gai include onions, garlic, ginger, lemon grass, kaffir lime, coriander, lime juice, fish sauce, chillies and soy sauce.
Most of these herbs and spices will be mixed together using a mortar and pestle to make a paste, only the lemon grass, onions and ginger will be added in larger pieces.
Some Thai chefs will use a mixture of coconut milk (purchased in cartons) and coconut juice (fresh from the coconut) to make Tom Ka Gai. The reason for this is simply due to the exceptional flavour produced by using fresh coconut juice. However, using coconut juice alone is not enough, as it will not boil down or thicken the soup itself, and this is why coconut milk, which is thicker and creamier, is also added to the soup mix.
One slight variation on the theme of Tom Kah Gai is to add a small quantity of fresh shrimp to the recipe, only a small amount, possibly just 5th of the quantity of chicken that is being added.
There is some debate regarding how chilli should be added to the recipe. One half of the divide tells us that only fresh chilli should be used, to make the soup fiery. The other half tell us that the chilli should fried first, as this imparts a more smoky flavour to the soup. Try both, decide which you like best.
A slight local variation is eaten in North East Thailand (Isan) and in Laos. The Thai version of Tom Kah Gai does not use dill weed in the recipe, the Laos version does add dill weed, giving the soup a more tangy taste.
Although Tom Kha is usually made with chicken, it can be made with either pork or seafood, but chicken is by far the most common Tom Kha ordered.
Tom Ka Gai is also often ordered as a standalone dish, without rice, as an accompaniment to beer or whisky, much in the same way we eat peanuts or potato chips when drinking in a bar in the Western world.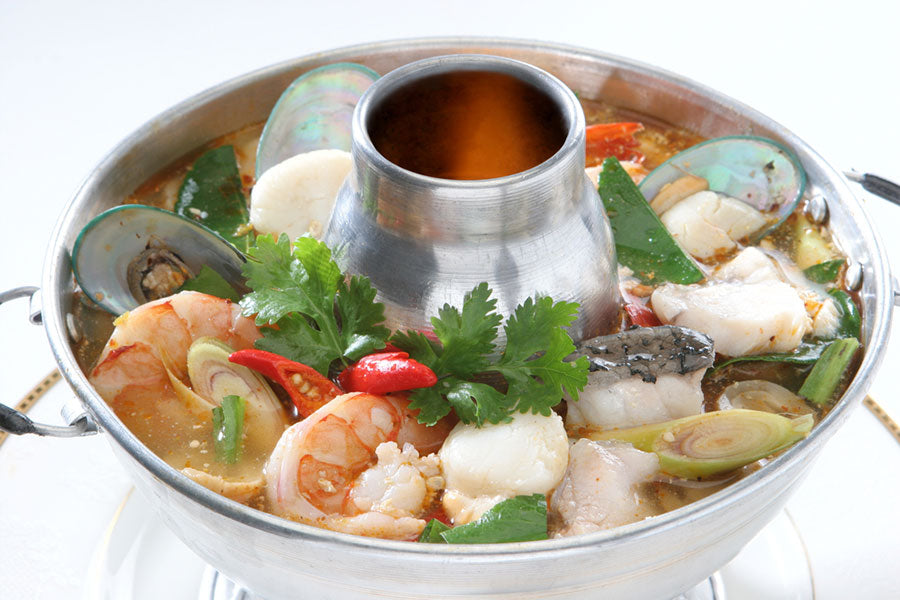 INGREDIENTS (FOR FOUR PEOPLE)
Note:
These are the recommended amounts required for a meal for four people. Please adjust the amounts accordingly for more or less people. Also you might already have some of these Thai food ingredients in your larder, so please set the quantity to zero for any ingredients that you already have. All our fresh Thai products are flown in direct from Thailand once a week, ensuring you get the best quality fresh Thai food products. Using fresh Thai produce will ensure you get an authentic taste.
MORE ABOUT THIS RECIPE

INSTRUCTIONS
Preparation Time: 10 minutes
Cooking Time: 15 minutes
Ready In: 25 minutes

1. Remove any fat from the chicken and slice it thinly.
2. Empty the coconut milk into the pan and bring it to the boil. Then add the lemongrass, shallots, coriander root, galangal and shredded kaffir leaves. Add the sliced chicken and simmer over a low-medium heat. Season to taste.
3. Once the chicken is cooked, add the coconut cream and stir into the soup. Once it returns to the boil, turn off the heat.
4. Finally add the red Thai chillies, coriander, fresh lime juice and fish sauce.
5. Serve hot in a Thai hot pot as a starter or a tasty accompaniment to the main meal.

NUTRITIONAL INFO
Amount per serving
Calories:

119kcal

Protein:

4.8g

Fat:

2.4g

Carbohydrate:

25.1g

Fiber:

2.4g

Sodium:

2398mg

Cholesterol:

1mg
Rated
4.8
/5 based on
78
customer reviews
MORE THAI STARTER RECIPES
CELEBRITY TESTIMONIALS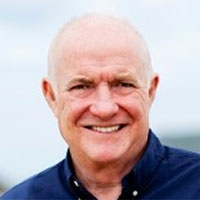 RICK STEIN

BESTSELLER AUTHOR
What's more, thai-food-online.co.uk has been listed as the recommended suppliers to get authentic...
Read full endorsement
Dean Banks

Master Chef's Finalist
My experience with Thai Food Online has been great so far.  I feel the pricing is so great compared to ....
Read full endorsement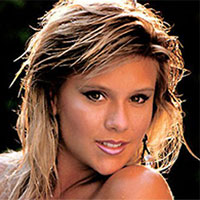 After ordering her ingredients from Thai Food Online, Sam Fox serves up a tasty meal and proves...
Read full endorsement