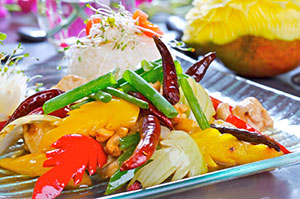 Order ingredients in 1-click
Chicken And Cashew Nut Recipe (Gai Pad Med Mamuang Himaphan)
---
Although Chicken with Cashew Nut is eaten frequently within Thailand, it did not originate there. It was invented in America by the chef David Leong, shortly after his move to the USA from China. It was first served in Springfield, at the Grove Supper Club, and was soon being prepared all over America. However, during the 1960s, Thailand saw an influx of American citizens, in the form of US sailors, who would dock in either Pattaya or Phuket. For many of these military people, dishes such as Chicken with Cashew Nuts were their entire knowledge of what they perceived to be Asian food, so they began to order it in local restaurants. Four decades later and Chicken with Cashew Nut features on any decent restaurant menu.
In typical Thai style, when adopting dishes from other nations, the Thai version of Chicken with Cashew Nut has been subtly changed. The inclusion of Thai chillies and the ever present fish sauce has created a hybrid dish, which is still very obviously Chinese in influence, yet has the classic Thai kick, that extra little taste that all Thai food is famous for.
Like most dishes of Chinese origin, when eaten by local Thai people, Chicken with Cashew Nut is seldom ordered as the main dish of the meal. Instead it is used as a substitute for pure vegetable dishes, to add variety and flavour to the table.
When Chicken with Cashew Nut is actually ordered as a main dish, then it will almost always be served with Jasmine rice, this aromatic strain of the staple filler food in Thailand seems to bring out the flavours of the dish to perfection.
When cooking Chicken and Cashew Nut, which is basically a stir fry dish, do not be tempted to prepare it in the usual Thai style of cooking quickly and a high heat. Unlike traditional Thai dishes, which feature crispy, fresh textured vegetables, Chicken with Cashew Nut needs to be cooked longer. This allows the vegetable and most importantly the cashew nuts, to soften. Once cooked, it should be served piping hot, directly to table.
Chicken with Cashew nut is basically a fusion dish, and this makes it very adaptable, it can be prepared as a standalone meal, or can be included as a side dish alongside many different foods, including some western favourites. A rewarding dish with plenty of versatility.
INGREDIENTS (FOR FOUR PEOPLE)
2 chicken breasts
4 Thai spring onions
5-8 large leaves Kale
1/2 cup unsalted cashew nuts
1 cup straw mushroom
3 cloves Thai garlic
3 tablespoons white cooking wine
1 cup chicken broth
2 tablespoons soy sauce
2 tablespoons rice vinegar
1/2 teaspoon dark soy sauce
1 lemongrass stalk
2 tablespoons fish sauce
2 tablespoons palm sugar
1-2 tablespoons oil for stir-frying
Note:
These are the recommended amounts required for a meal for four people. Please adjust the amounts accordingly for more or less people. Also you might already have some of these Thai food ingredients in your larder, so please adjust the quantities for any ingredients that you already have. All our fresh Thai products are flown in direct from Thailand once a week, ensuring you get the best quality fresh Thai food products. Using fresh Thai produce will ensure you get an authentic taste.
MORE ABOUT THIS RECIPE

INSTRUCTIONS
Preparation Time: 30 minutes.
Cooking Time: 10 minutes
1. First slice the lemongrass and then pound it in a pestle and mortar.
2. Stir the remainder of the ingredients for the sauce in a large bowl and set it aside.
3. In a large wok, fry the onion, chillies and garlic for a couple of minutes.
4. Add the chicken and mushrooms to the wok and continue cooking for about five minutes till the chicken is cooked.
5. Add the rest of the vegetables to the wok and stir-fry for around another minute.
6. Finally add the sauce and cashew nuts and continue stir-frying for a couple of minutes until the sauce thickens.
7. Serve with either fragrant jasmine rice or glutinous sticky rice.

CELEBRITY TESTIMONIALS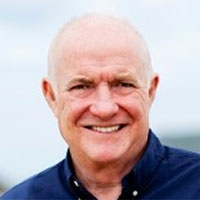 RICK STEIN

BESTSELLER AUTHOR
What's more, thai-food-online.co.uk has been listed as the recommended suppliers to get authentic...
Read full endorsement
Dean Banks

Master Chef's Finalist
My experience with Thai Food Online has been great so far.  I feel the pricing is so great compared to ....
Read full endorsement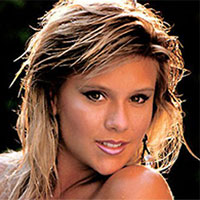 After ordering her ingredients from Thai Food Online, Sam Fox serves up a tasty meal and proves...
Read full endorsement