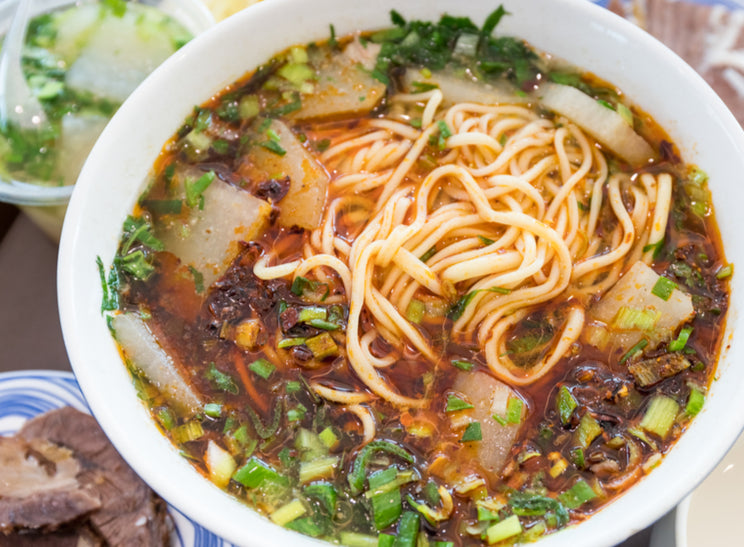 Order ingredients in 1-click
Please note that occasionally some products might be out of stock
CHINESE Lanzhou Style Beef Noodle Soup (1-CLICK RECIPe)
---
Broth and stew based noodle soups are a common cuisine across many areas of East and Southeast Asia. Anyone familiar with Chinese cuisine can agree that noodle soup recipes are a common delicacy across almost every region of China and Lanzhou Beef Noodle Soup is among the countries most favoured noodle soup dishes. Not only is it a popular choice of order among local restaurants, street food vendors across the Lanzhou/Gansu region of China( where the dish originates) often sell out of what they ordinarily call 'beef noodle soup'. 
A traditional and authentic Lanzhou beef noodle soup is made of classic hand-pulled noodles, clear and flavourful beef broth, thin beef slices and slices of Asian radish (mooli/daikon), chilli oil and coriander or spring onions to garnish. While there are several components, each of them are what make this noodle soup dish truly special. Surprisingly, this is one of few Chinese dishes which does not call for soy sauce but rather gets a mild and refreshing taste from all of the other ingredients; and of course, salt and pepper can be added to taste.
It goes without saying that in the UK, winter is the perfect time to experiment with new and delicious soup, stews or broth recipes when you're in need of something warm and comforting to eat. Recreating this delicious and addictive Lanzhou beef style noodle soup should do just the trick. While a traditional and authentic Lanzhou beef noodle soup requires more effort and time to prepare, our recipe is simple and beginner friendly while still recreating some of the soup's great flavours. A traditional recipe also uses oxtail meat and beef bones but for convenience, our recipe sticks to thinly sliced beef pieces. However, the real magic is in the delicious and fragrant soup spice mix.
INGREDIENTS (FOR FOUR PEOPLE)
MORE ABOUT THIS RECIPE

INSTRUCTIONS
Preparation Time: 10 minutes
Cooking Time: 20 minutes
Ready In: 30 minutes

1. In a deep pot, add the beef slices and 600ml of room temperature water. Simmer on low until the beef is almost cooked through for about 5-10 minutes, removing any foamy water. Follow by adding the beef stock or paste and mixing through, simmering for another 5 minutes.
2. Next, add the spice mix ingredients into a cheese cloth style bag and continue simmering with the beef for another 15 minutes. Follow by adding the salt.
3. Now, add the thinly sliced daikon radishes and simmer the broth for another 20 minutes. Follow by removing the spice mix bag and sliced beef, setting aside. (Leave the daikon slices in the broth).
4. In a separate pot, cook the noodles according to the packet instructions. Then serve in the desired bowls along with the beef broth. Portion the beef slices over the noodles and broth into each bowl.
5. Finish the dish by garnishing with chilli oil, spring onions, coriander and ginger slices.

NUTRITIONAL INFO
Amount per serving
Calories:

407kcal

Protein:

40.8g

Fat:

8.5g

Carbohydrate:

40.4g

Fiber:

4.3g

Sodium:

1372mg

Cholesterol:

101mg
Rated
4.9
/5 based on
1009
customer reviews
CELEBRITY TESTIMONIALS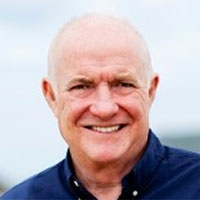 RICK STEIN

BESTSELLER AUTHOR
What's more, thai-food-online.co.uk has been listed as the recommended suppliers to get authentic...
Read full endorsement
Dean Banks

Master Chef's Finalist
My experience with Thai Food Online has been great so far.  I feel the pricing is so great compared to ....
Read full endorsement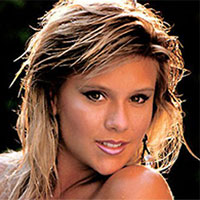 After ordering her ingredients from Thai Food Online, Sam Fox serves up a tasty meal and proves...
Read full endorsement