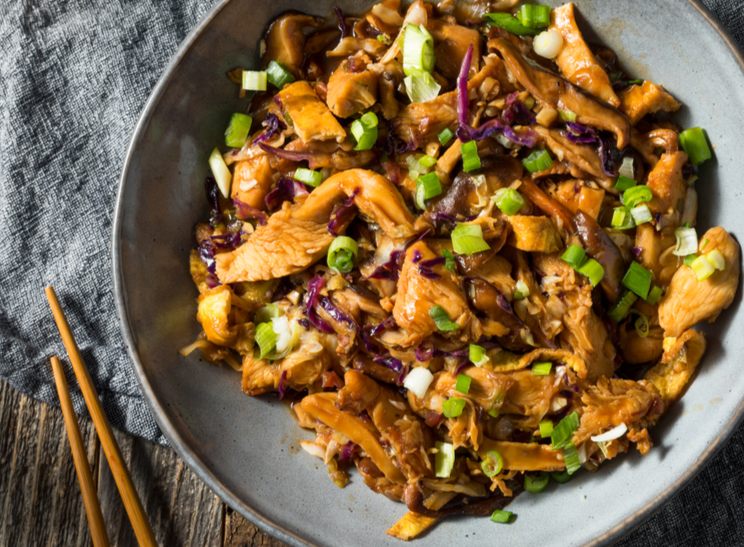 Order ingredients in 1-click
Please note that occasionally some products might be out of stock
CHINESE Moo Shu Pork (1-CLICK RECIPE)
---
Moo Shu Pork is a seasoned meat and vegetable stir-fry dish of Northern Chinese origin which first appeared in American restaurants in the 1960's, soon becoming a staple for American Chinese cuisine. Very traditional Moo Shu Pork consists of pork tenderloin strips, cucumber, wood ear mushrooms and enoki mushrooms, however, this great dish has been adapted and modified over the years to suit various preferences and taste buds.

It's not uncommon for some cooks to slice up some of their favourite vegetables and add them to the wok for Moo Shu Pork. Our recipe sticks closely to most traditional ingredients and is packed with fragrant seasoning ingredients such as fresh garlic, ginger, soy sauce and shao-hsing wine.

Moo Shu pork is also traditionally served with peking pancakes, a soft savoury pan fried pancake typically served with peking duck. They are also occasionally called spring pancakes. Just before rolling and serving, these pancakes are given a light drizzling of hoisin sauce for a wonderful flavour to taste. Although peking or spring pancakes are the perfect pairing for Moo Shu Pork, they can be time consuming to prepare. Therefore we recommend cooking these ahead of time and even freezing them until you're ready to use them. Another option is to simply enjoy your Moo Shoo Pork stir fry with rice when these pancakes aren't available or when you want to save on time.
*This dish can sometimes become water due to high density ingredients such as cucumbers, hence why we skipped this ingredient. This may cause the pancakes this stir fry is served with to become soggy or even break.
INGREDIENTS (FOR FOUR PEOPLE)
MORE ABOUT THIS RECIPE

INSTRUCTIONS
Preparation Time: 30 minutes
Cooking Time: 10 minutes
Ready In: 40 minutes

1. Soak the pork strips with the marinade ingredients, adding the cornstarch last. Set the pork aside for at least 30 minutes.
2. Combine all the ingredients for the sauce in a bowl and mix, For best results, whisk the cornstarch into the bowl last.
3. Squeeze the excess water from the soaked mushrooms, removing the stems and cutting them into thin strips.
4. Next rinse the canned bamboo shoots underwater and set aside, cut the fresh ginger into thin slices and chop the spring onions into 1 inch pieces.
5. In a small separate bowl, lightly beat the eggs with salt.
6. Next, heat up a large wok pan over a medium-high near. Add 2 Tbsp of oil and cover the surface area of the wok. Once the oil is hot, scramble the eggs until they are firm and remove from the wok before cleaning out the wok to use again.In a small separate bowl, lightly beat the eggs with salt.
7. With the now clean wok, add another 2 tbsp of cooking oil and heat up. Once the oil is hot, add the sliced ginger and stir fry for roughly 30 seconds. Follow by adding the marinated pork strips and stir fry these until they are nearly cooked through then remove everything from the wok.
8. Follow by adding another 2 tbsp of oil to the wok and once hot, add the sliced mushrooms and stir fry for roughly 1 minute. Then, add the stir fry sauce to the middle of the wok and stir quickly to thicken the sauce. Next, add the pork and scrambled eggs back into the wok along with the chopped spring onions. Mix everything together, remove the wok from the heat and stir in the sesame oil.
9. To serve the Moo Shu Pork with peking pancakes, place a pancake on a plate and brush or drizzle it with hoisin sauce. Add the stir fry mixture and roll up.

NUTRITIONAL INFO
Amount per serving
Calories:

203kcal

Protein:

3.3g

Fat:

3.7g

Carbohydrate:

41g

Fiber:

1.4g

Sodium:

7900mg

Cholesterol:

0mg
Rated
4.9
/5 based on
801
customer reviews
CELEBRITY TESTIMONIALS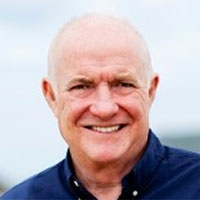 RICK STEIN

BESTSELLER AUTHOR
What's more, thai-food-online.co.uk has been listed as the recommended suppliers to get authentic...
Read full endorsement
Dean Banks

Master Chef's Finalist
My experience with Thai Food Online has been great so far.  I feel the pricing is so great compared to ....
Read full endorsement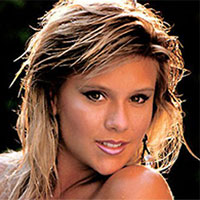 After ordering her ingredients from Thai Food Online, Sam Fox serves up a tasty meal and proves...
Read full endorsement