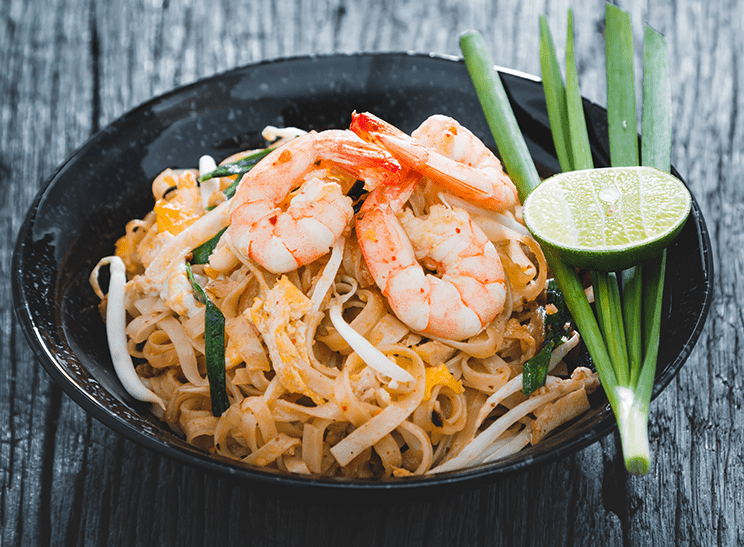 Order ingredients in 1-click
THAI FRIED NOODLES (PAD THAI)
---
A trip to the Khaosan Road in Bangkok will prove just how popular Pad Thai is with foreign visitors, and the reason for this is very simple. It is an entirely non-threating dish in every way, no chillies, no strong herbs or spices, just simple fresh ingredients, blended together with that classic Thai attention to flavour. No other dish is eaten more frequently by visitors to Thailand.
Fortunately, for those who find themselves craving this classic take on fried noodles once they leave the Kingdom of Thailand, the dish is extremely easy to prepare, and all ingredients required should be easy to find anywhere in the world.
Pad Thai is always eaten as a meal in its own right, with no extra side dishes, it is very filling, and no other food is required to turn it into a major meal. It is always served with a portion of fresh salad and a handful of fresh bamboo shoots. In many restaurants it will be served in a basket, which has been woven from a type of large turnip which has been shredded, and then deep fried to form the basket, this is then eaten once the Pad Thai has been finished.
The major variation on Pad Thai is in regards of the shrimps used. Traditionally, dried shrimps are added, which re-hydrate whilst being cooked. Whilst this is an excellent way of preparing Pad Thai, many cooks believe that fresh shrimp is a far better option. Instead of adding a profusion of small dried shrimp, they will add half a dozen large prawns, which adds a far heavier flavour to the dish of Pad Thai.
Pad Thai is one of the few dishes that Thai people will eat with chopsticks. Many visitors to Thailand make the mistake of presuming that Thai people eat everything with chopsticks, yet this is not the case, there are very few uses for chopsticks with Thai food.
For those who are going to attempt to prepare Pad Thai for themselves, please note that Pad Thai preparation differs from most Thai foods in a major way. Instead of being cooked quickly at a high heat, Pad Thai is cooked more slowly, allowing the noodles to soften fully before being served. If you should find that your noodles are still a little raw once you have finished cooking, just let the Pad Thai stand for a few minutes to allow them to soften up.
INGREDIENTS (FOR FOUR PEOPLE)
Note:
These are the recommended amounts required for a meal for four people. Please adjust the amounts accordingly for more or less people. Also you might already have some of these Thai food ingredients in your larder, so please set the quantity to zero for any ingredients that you already have. All our fresh Thai products are flown in direct from Thailand once a week, ensuring you get the best quality fresh Thai food products. Using fresh Thai produce will ensure you get an authentic taste.
MORE ABOUT THIS RECIPE

INSTRUCTIONS
Preparation Time: 10 minutes
Cooking Time: 10 minutes
Ready In: 20 minutes

1. Fry shallot and garlic in 3 tablespoons of oil over medium heat until fragrant.
2. Add noodles and water, stir until tender.
3. Season with sugar, fish sauce and tamarind juice. Stir well, and then push the noodles to the side of the wok.
4. Add 3 tbsp of oil to the same wok; add bean curd (tofu) and chilli powder.
5. Sauté and toss well with the fried noodles, and then push the mixture back to the side of the wok again.
6. Put 2 tablespoons of oil in the wok, break the eggs in and stir until done.
7. Toss again with the noodles; add the bean spouts, shrimps and Chinese chives. Stir until everything is done.
8. Transfer to a serving dish, sprinkle roasted peanuts on top. Serve with fresh vegetables.

NUTRITIONAL INFO
Amount per serving
Calories:

119kcal

Protein:

4.8g

Fat:

2.4g

Carbohydrate:

25.1g

Fiber:

2.4g

Sodium:

2398mg

Cholesterol:

1mg
Rated
4.8
/5 based on
78
customer reviews
CELEBRITY TESTIMONIALS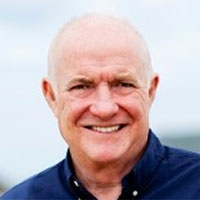 RICK STEIN

BESTSELLER AUTHOR
What's more, thai-food-online.co.uk has been listed as the recommended suppliers to get authentic...
Read full endorsement
Dean Banks

Master Chef's Finalist
My experience with Thai Food Online has been great so far.  I feel the pricing is so great compared to ....
Read full endorsement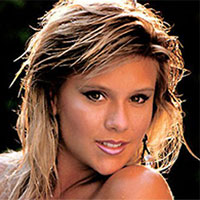 After ordering her ingredients from Thai Food Online, Sam Fox serves up a tasty meal and proves...
Read full endorsement