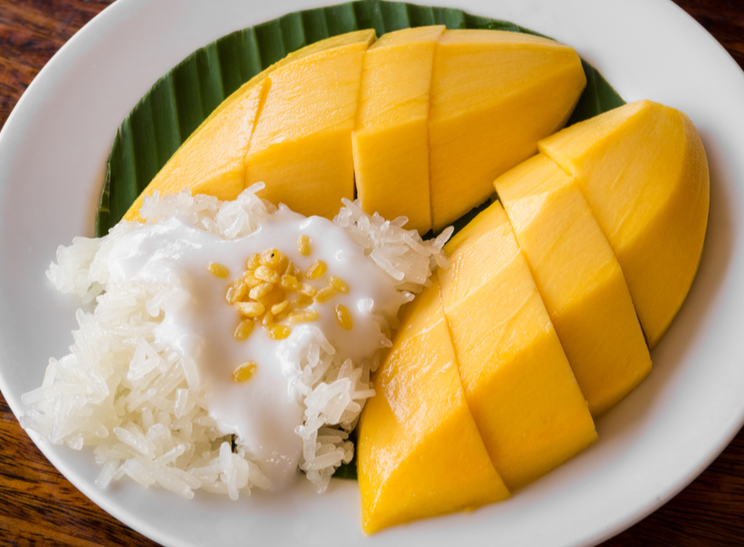 Order ingredients in 1-click
Please note that occasionally some products might be out of stock
Thai Coconut Sticky Rice with Mango Khao Neow Mamuang
---
Khao Neow Mamuang, also known as Coconut Sticky Rice with Mango, is one of Thailand's most well known and popular dessert dishes and while it originated in Thailand, this dessert is also consumed throughout south-east Asia in countries like Cambodia, Laos, Vietnam, even Bangladesh and India! Thai coconut sticky rice combines delicious sweet and soft glutinous rice with rich and creamy coconut milk, juicy mango (typically a yellow mango) and a sprinkle of toasted mung beans for a little touch of crunch.

For those who aren't familiar with Thai cuisine or are just getting started out, this is an amazing recipe to try because with the exception of 'rice pudding', in western culture rice is most commonly associated with savoury meals. So, Thai coconut sticky rice with mango is a refreshingly tasty twist on simple ingredients that most people in the west are already familiar with and can find readily available.

Khao Neow Mamuang as it's traditionally called, is also very easy to make and doesn't take long to prepare. In fact, we would even go as far as to say this is probably one of the few Thai recipes which are practically foolproof to make. Despite that, we think there are a few tips we could share so you get the best result when making this.

For example, we would suggest you should always use a good quality full-fat coconut milk for this recipe. Avoid 'light' or coconut milks with low percentage coconut solids, these will only take away from the authentic creamy texture of the dish. Also make sure you're using glutinous rice, that's the 'sticky element' of the coconut sticky rice and without this, the rice won't clump together the way it's supposed to. Finally, when it comes to garnishing the recipe the traditional garnish would be mung beans but if you don't have these to hand, you can use toasted sesame seeds as a substitute.
INGREDIENTS (FOR FOUR PEOPLE)
MORE ABOUT THIS RECIPE

INSTRUCTIONS
Preparation Time: 10 minutes
Cooking Time: 20 minutes
Ready In: 30 minutes

Prepare the sticky rice by steaming glutinous rice inside a cloth bag using a vegetable steamer.
In a small saucepan, stir 1 cup of coconut milk together with 3 tablespoons of sugar and 1/2 teaspoon of salt. Heat only until the sugar and salt dissolves. Soak the cooked sticky rice in this mixture.
Blend the 1/2 cup coconut milk, salt, sugar and starch. Whisk and heat in a small pan until thickened, then cool in the refrigerator until ready to serve.
Use a small flat pan to toast the sesame seeds until golden brown.
Peel and cut the mango and arrange it with the sweetened rice. Sprinkle the rice with a little toasted sesame seed. Drizzle a little of the very cold sauce over it all. Serve.
To cook the glutinous rice, put it into a clean cloth bag and steam it using a vegetable steamer until cooked through for about 20 minutes.
In another pan, blend roughly 100ml of coconut milk with the remaining salt, sugar and tapioca starch, whisking until the mixture thickens and becomes smooth. Allow the mixture to cool down before storing in the fridge for when you are ready to serve.
Next, peel and cut the yellow mango into your desired pieces and serve it on a plate with the sweet glutinous rice. Then sprinkle the toasted sesame seeds on the rice and drizzle the chilled coconut milk sauce over the dish before serving. Enjoy!

NUTRITIONAL INFO
Amount per serving
Calories:

877kcal

Protein:

11.7g

Fat:

44.8g

Carbohydrate:

118.1g

Fiber:

10.3g

Sodium:

615mg

Cholesterol: 0mg
Rated
4.9
/5 based on
121
customer reviews
CELEBRITY TESTIMONIALS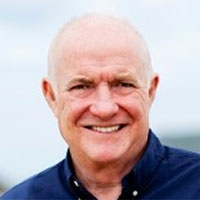 RICK STEIN

BESTSELLER AUTHOR
What's more, thai-food-online.co.uk has been listed as the recommended suppliers to get authentic...
Read full endorsement
Dean Banks

Master Chef's Finalist
My experience with Thai Food Online has been great so far.  I feel the pricing is so great compared to ....
Read full endorsement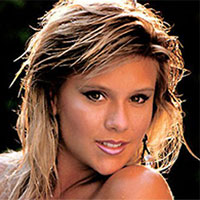 After ordering her ingredients from Thai Food Online, Sam Fox serves up a tasty meal and proves...
Read full endorsement