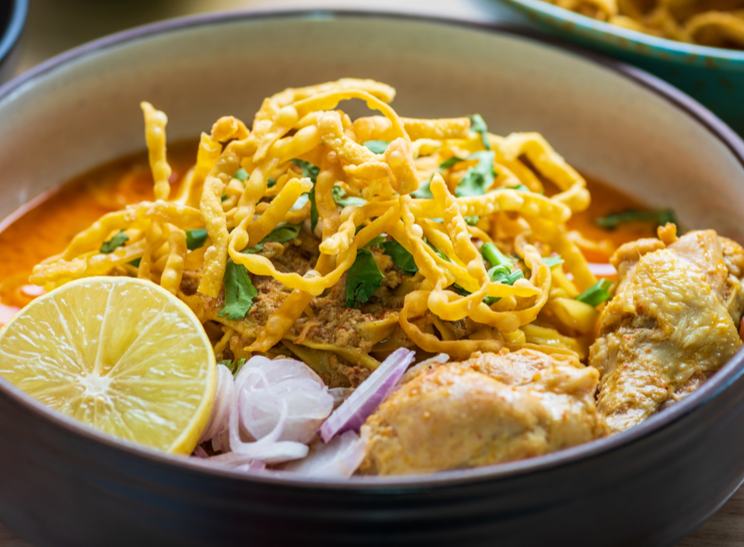 Order ingredients in 1-click
Please note that occasionally some products might be out of stock
Thai Chicken Curry Noodles Recipe (Khao Soi)
---
Thai Chicken Curry Noodles or Khao Soi is one authentic regional Thai cuisine that often doesn't get the recognition it deserves in comparison to other popular dishes. Dating back to the 15th and 16th centuries, Khao Soi is a creamy coconut curry noodle based dish originating in Northern Thailand (with many linking its origins specifically to the city of Chiang Mai).
It's a dish which combines common Thai ingredients and flavours such as shallots, lemons (or limes), red curry paste or ground chillies in oil with meat into a curry-like soupy sauce, served on egg noodles and topped with crispy fried egg noodles. Traditionally, Khao Soi is served with chicken; however variations of the dish can also be made with beef, pork and even tofu.
Khao Soi has often been likened to Thai Yellow Curry, Massaman Curry and even Laksa. However, while this dish is creamy, it has a thinner more soup-like consistency in comparison to typical Thai curries. Khao Soi recipes can also vary with the use of ingredients to achieve the spicy kick the dish is well known for, some recipes require individual ingredients to be grounded to make homemade paste while others, like this one, achieve a similar taste using readily available red curry paste. In some regions of east and west Northern Thailand, a version of Khao Soi can be made with rice noodles, however, a truly authentic Northern Thai Khao Soi recipe must use egg noodles.
In its most basic form, Khao Soi should be a combination of curry soup-sauce served on soft egg noodles with a choice of meat and garnished with fried noodles. Its flavour can be changed slightly to suit anyone's preference, with the palm sugar ingredient adding sweetness to the recipe while the soy sauce balances this out with saltiness. In Northern Thailand, Khao Soi is a very popular street food and also a popular lunch menu option in Thai restaurants.
INGREDIENTS (FOR FOUR PEOPLE)
MORE ABOUT THIS RECIPE

INSTRUCTIONS
Preparation Time: 10 minutes
Cooking Time: 15 minutes
Ready In: 25 minutes

1. Warm cooking oil in a pan on a medium heat.
2. Add some oil, garlic and shallots, stir for about 30 seconds.
3. Then, add the red curry paste and turmeric. Stir and simmer the mixture until the paste darkens slightly. This should take roughly 3 minutes.
4. Add 1 cup of coconut milk slowly, stirring to blend. Allow it to simmer for a few minutes with the sauce bubbling until a layer of oil sits on the surface.
5. Follow by adding the chicken drumsticks and simmer on a medium to low heat until cooked through.
6. Then, add the remaining cup of coconut milk and repeat step 4 until oil rises to the surface again.
7. Next, add the chicken stock and bring the sauce to a simmer before adding the soy sauce and sugar to taste. Reduce the heat to keep the sauce warm.
8. Boil a large pot of water and cook the egg noodles according to their instructions. Once cooked, drain and rinse them with cold water
9. Serve the noodles into 4 bowls and cover with the warm Khao Soi curry sauce and chicken pieces. Optionally, garnished with fried noodles, coriander, sliced onions and lemon wedges.

NUTRITIONAL INFO
Amount per serving
Calories:

742kcal

Protein:

23.6g

Fat:

46.7.4g

Carbohydrate:

61.5g

Fiber:

4.9g

Sodium:

1718mg

Cholesterol:

65mg
Rated
4.9
/5 based on
788
customer reviews
CELEBRITY TESTIMONIALS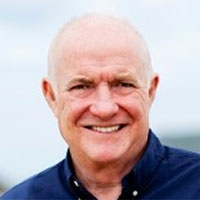 RICK STEIN

BESTSELLER AUTHOR
What's more, thai-food-online.co.uk has been listed as the recommended suppliers to get authentic...
Read full endorsement
Dean Banks

Master Chef's Finalist
My experience with Thai Food Online has been great so far.  I feel the pricing is so great compared to ....
Read full endorsement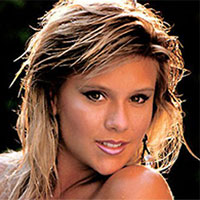 After ordering her ingredients from Thai Food Online, Sam Fox serves up a tasty meal and proves...
Read full endorsement