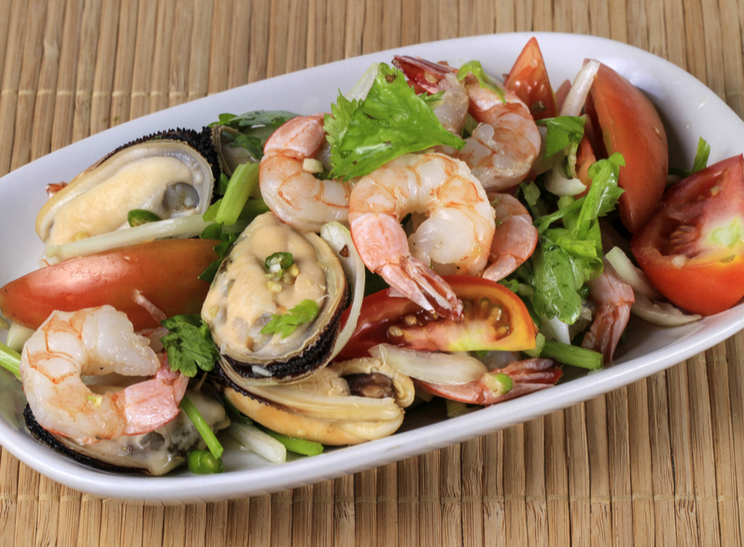 Order ingredients in 1-click
Please note that occasionally some products might be out of stock
Thai Seafood Salad (Yam Talay)
---
Thai Seafood Salad, or Yam Talay (Yam meaning salad and Talay meaning seafood), is one of the most popular Thai people and visitors to Thailand as well. Nobody can deny that the rich variety of fresh, high quality seafood, which is widely available all across Thailand, adds significantly to its culinary quality. Thai Seafood Salad is the very pinnacle of Thai seafood preparation in many ways. Spicy, flavoursome and made from only the freshest squid, shrimp and fish, it is one of the classic dishes of South East Asia.
Quite often a Thai Seafood Salad will be eaten as a meal in its own right, with several people sharing a large plate full, spooning it up directly to their mouths. At other times, it will be ordered in a small portion, as a side dish, as part of a larger meal. Either way, the recipe is identical.
There is a second variation to Thai Seafood Salad, which is more popular as a standalone dish. This is Thai Seafood Salad with Glass Noodles. As the name suggests, the only difference is that glass noodles are added to the recipe, this makes it far more filling, and therefore more suited as main meal.
Regional variations of Thai Seafood Salad do exist. Parts of Thailand (or even individual cities), which are located on or close to the coast, will often add more shrimp, crab and squid, this is readily available, fresh and cheap. In land, quite often more fish will be added, as this is far easier to obtain fresh in an area that does not have access to freshly caught seafood.
Thai Seafood Salad has a very distinctive taste; it is intended to be both spicy and sour at the same time. When a chef gets the recipe right, then this taste is perfectly balanced. Because of this strong flavour, which can be quite challenging even for Thai people, a plate of Thai Seafood Salad is usually eaten quite slowly, allowing the taste buds to recover between spoonfuls. Also due to this taste, it is often ordered as an accompaniment to beer or whisky, much in the way we order bar snacks in the Western World. It is quite a culinary experience to set your taste buds afire with a spoon of spicy Thai Salad, and then drink a little beer to help soothe the burning sensation, and take away the sour taste.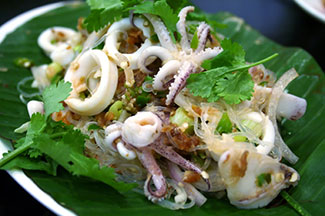 INGREDIENTS (FOR FOUR PEOPLE)
Note:
These are the recommended amounts required for a meal for four people. Please adjust the amounts accordingly for more or less people. Also you might already have some of these Thai food ingredients in your larder, so please set the quantity to zero for any ingredients that you already have. All our fresh Thai products are flown in direct from Thailand once a week, ensuring you get the best quality fresh Thai food products. Using fresh Thai produce will ensure you get an authentic taste.
MORE ABOUT THIS RECIPE

INSTRUCTIONS
Preparation Time:

10 minutes

Cooking Time:

10 minutes

Ready In:

20 minutes
1. Boil some water in a large pan. Cook the seafood (each one separately - see video below), mix them together and set aside in a large bowl.
2. Add the fish sauce, lime juice, palm sugar and chillies to the seafood and stir them all well together.
3. Finally add the lemongrass, spring onions and Chinese chives and mix well again.
4. Serve immediately.

NUTRITIONAL INFO
Amount per serving
Calories:

200

Protein:

31g

Fat:

2.5g

Saturated fat:

0.5g

Carbohydrate:

12g

Fiber:

1g

Sodium:

1700mg

Cholesterol:

205mg
CELEBRITY TESTIMONIALS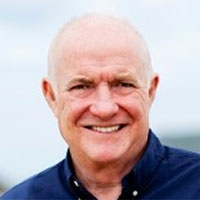 RICK STEIN

BESTSELLER AUTHOR
What's more, thai-food-online.co.uk has been listed as the recommended suppliers to get authentic...
Read full endorsement
Dean Banks

Master Chef's Finalist
My experience with Thai Food Online has been great so far.  I feel the pricing is so great compared to ....
Read full endorsement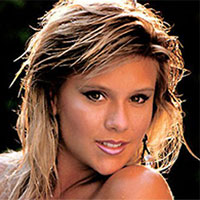 After ordering her ingredients from Thai Food Online, Sam Fox serves up a tasty meal and proves...
Read full endorsement