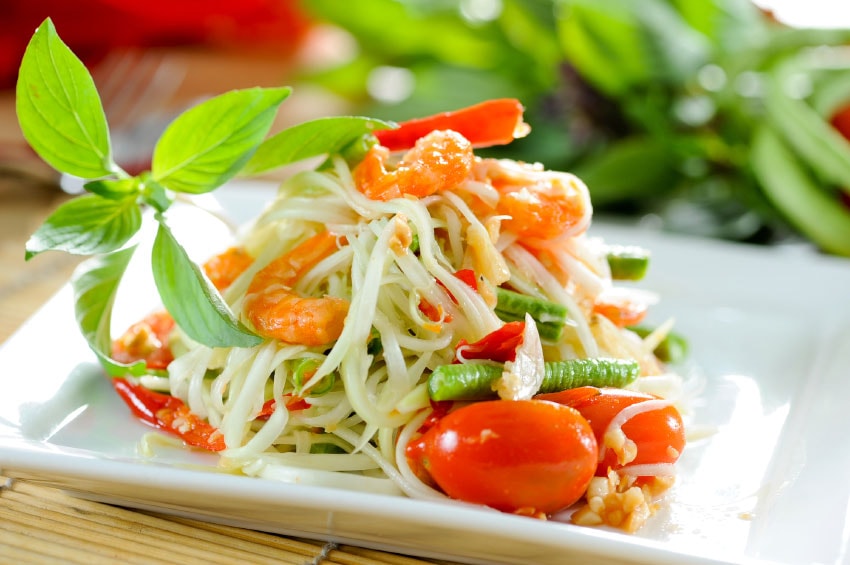 Order ingredients in 1-click
Please note that occasionally some products might be out of stock
THAI PAPAYA SALAD (SOM TUM)
---
Without a doubt, Green Papaya Salad can be considered the Thai national dish. Everybody eats it almost every day, it is more than a meal, it is an entire social experience, a group of Thai folks (usually women), will share the preparation of a large dish of Green Papaya Salad, and then sit down and eat it together, often accompanied by a basket full of Kanom Jeen (a kind of Thai equivalent to spaghetti), and various fresh vegetables such as string beans and cucumber.
No discussion of Green Papaya Salad would be complete without also including Pla Ra (rotten fish sauce). Green Papaya Salad has a rather distinct taste and this is almost entirely fuelled by the inclusion of Pla Ra. Pla Ra is made quite simply, a quantity of fish is taken, and put into a plastic bag, which is then kept un-refrigerated and left to rot. The resulting liquid in the bottom of the bag, is used as a flavouring for some dishes, including Green Papaya Salad.
There is a variation of Green Papaya Salad, named Som Tum Thai, which does not include any Pla Ra, and this is often preferred by tourists visiting Thailand, as Pla Ra is something of an acquired taste.
There are also some regional differences to Green Papaya Salad. For example, in Isan (North East Thailand) which is entirely land locked, the crab used as part of the recipe will be some form of small river or land crab, these will be smashed using a mortar and pestle before they are added to the salad. In Southern Thailand, which is much closer to the sea (most areas are less than 50km from the coastline if not on it), then sea crab is used. Instead of being crushed before adding to the Green Papaya Salad, it is simple chopped into large pieces and thrown in for people to extract the meat and eat it as part of the salad.
Green Papaya Salad is one of the few dishes that Thai people will eat without rice. Usually it is eaten as a light lunch, or a social snack. It is the perfect dish to be eaten in the Western World in the same way. Low in calories and fat, high in nutrition and incredibly delicious. Prepare with fewer chillies if you want an easy to eat, tasty alternative to a traditional salad.
INGREDIENTS (FOR FOUR PEOPLE)
Note:
These are the recommended amounts required for a meal for four people. Please adjust the amounts accordingly for more or less people. Also you might already have some of these Thai food ingredients in your larder, so please set the quantity to zero for any ingredients that you already have. All our fresh Thai products are flown in direct from Thailand once a week, ensuring you get the best quality fresh Thai food products. Using fresh Thai produce will ensure you get an authentic taste.
MORE ABOUT THIS RECIPE

INSTRUCTIONS
Preparation Time: 10 minutes
Cooking Time: 5 minutes
Ready In: 15 minutes

1. Prepare the ingredients as suggested above. Shred the green papaya with a miracle knife or with a regular cheese grater with large sized holes. Discard any of the green papaya seeds.
2. Traditionally in Thailand green papaya salad is made using a clay pestle and mortar and a spatula. Pound the garlic and chillies to a paste. Add the dried shrimp, peanuts and long beans and pound to bruise. Follow with the green papaya and carrot. Stir well with a spoon/spatula and pound to bruise the vegetables so that they absorb the heat and flavour of the chillies and garlic.
3. Add the lime juice, fish sauce and palm sugar. Stir and pound a bit more to blend the vegetables with the flavourings and seasonings. Then add the tomato pieces, stir and bruise lightly to blend in with the rest of the salad.
4. Transfer to a serving plate and sprinkle with peanuts. Serve with Thai sticky rice.
Vegetarian's Tip: For a vegetarian option, omit the dried shrimp and substitute soy sauce for fish sauce.

NUTRITIONAL INFO
Amount per serving
Calories:

59

Protein:

1g

Fat:

0g

Saturated fat:

0g

Carbohydrate:

15g

Fiber:

1g

Sodium:

403mg

Cholesterol:

0mg
Rated
4.8
/5 based on
923
customer reviews
CELEBRITY TESTIMONIALS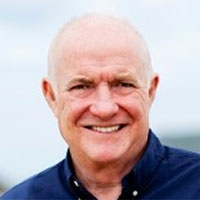 RICK STEIN

BESTSELLER AUTHOR
What's more, thai-food-online.co.uk has been listed as the recommended suppliers to get authentic...
Read full endorsement
Dean Banks

Master Chef's Finalist
My experience with Thai Food Online has been great so far.  I feel the pricing is so great compared to ....
Read full endorsement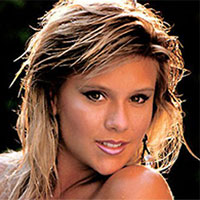 After ordering her ingredients from Thai Food Online, Sam Fox serves up a tasty meal and proves...
Read full endorsement