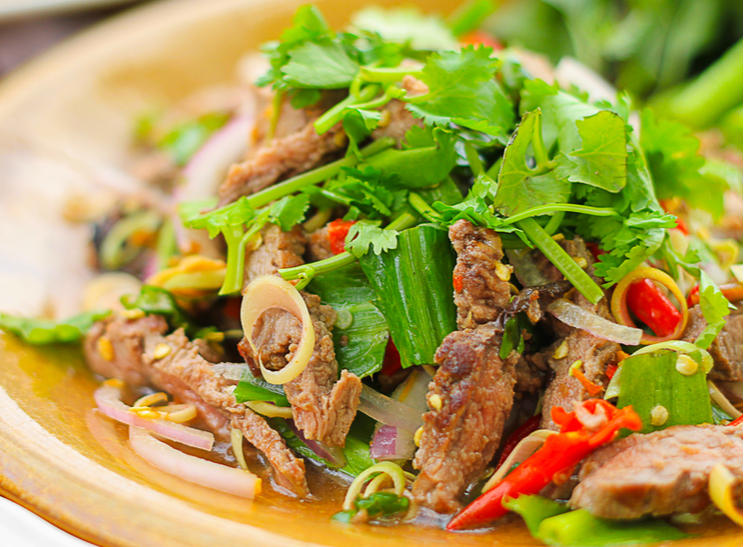 Order ingredients in 1-click
Please note that occasionally some products might be out of stock
THAI BEEF SALAD RECIPE (YUM NUEA)
---
As with many Thai dishes which share the title "salad", Thai Beef Salad is not strictly a salad as most people would recognise it. Instead, it is a meat and vegetable dish which is cooked very quickly, leaving the vegetables almost raw, and it is then served hot. In many ways the Thai Beef Salad is the very definition of a stir fry.
Simple ingredients, cooked very quickly at a high temperature in a wok (or frying pan). Where Thai Beef Salad does differ from other stir fry dishes, particularly those influenced by Chinese cuisine, is in the taste. A good Thai Beef Salad is fiery, due to the red chillies used in the preparation of the dish.
Do not let the simple list of ingredients fool you, a well prepared Thai Beef Salad is a very tasty dish in its own right, although it would most usually be consumed as part of a larger meal, complementing possibly Tom Yum or Tom Kha, and served next to a deep fried fish or some other central piece of the meal. It is basically used as a vegetable dish, to pad out the table, and is seldom eaten alone.
The real secret to preparing a Thai Beef Salad is to cook it quickly, no more than 2-3 minutes in the wok at high heat, and then to leave it to sit and cool on a serving plate a little before serving it. This allows the flavours to disperse, and also allows the sauce to drain to the bottom of the serving plate, leaving the vegetables clean and crisp when added.
The importance of this becomes apparent when we consider that the juices from the cooked meat will become the sauce that is drizzled across the vegetables before it is served at table.
When it comes to the vegetables being used, always try and procure the freshest possible, this is for two reason. Firstly, fresh vegetables are more moist, and will help to cut down on the fiery chilli flavour of the beef. Secondly, the vegetables should be served in large pieces, no dicing or slicing, and fresh vegetable will maintain their shape better when served in this way.
Overall, a Thai Beef Salad is the perfect addition to any Thai spread, tasty, attractive and easy to prepare. Do not forget to garnish well with coriander before serving, for that final touch of Thai.
INGREDIENTS (FOR FOUR PEOPLE)
Note:
These are the recommended amounts required for a meal for four people. Please adjust the amounts accordingly for more or less people. Also you might already have some of these Thai food ingredients in your larder, so please set the quantity to zero for any ingredients that you already have. All our fresh Thai products are flown in direct from Thailand once a week, ensuring you get the best quality fresh Thai food products. Using fresh Thai produce will ensure you get an authentic taste.
MORE ABOUT THIS RECIPE

INSTRUCTIONS
Preparation Time: 10 minutes
Cooking Time: 15 minutes
Ready In: 25 minutes

1. Heat a frying pan over a high heat until very hot, brush the beef with the oil and then season generously. Fry for 2-3 minutes on each side until charred on the outside but nice and rare on the inside. Leave to rest for 10 minutes then cut into thin slices and place in a shallow dish, reserving any juices.
2. Add the chillies, cucumber, Chinese chives and herbs.
3. Make the dressing by whisking all the ingredients until well combined.
4. Pour the dressing over the salad and carefully toss together. Divide between four dishes and serve immediately.
5. Serve with the usual Thai condiments such as fish sauce, dark sweet soy, and sriracha sauce if you wish.
6. It should also be served with jasmine rice, but it's also delicious with sticky rice (soaking up all the juices)

NUTRITIONAL INFO
Amount per serving
Calories:

271

Protein:

28g

Fat:

13g

Saturated fat:

1.3g

Carbohydrate:

11.7g

Fiber:

3.0g

Sodium:

432mg

Cholesterol:

0mg
Rated
4.5
/5 based on
339
customer reviews
CELEBRITY TESTIMONIALS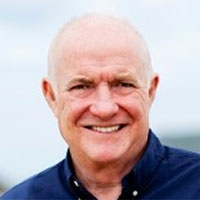 RICK STEIN

BESTSELLER AUTHOR
What's more, thai-food-online.co.uk has been listed as the recommended suppliers to get authentic...
Read full endorsement
Dean Banks

Master Chef's Finalist
My experience with Thai Food Online has been great so far.  I feel the pricing is so great compared to ....
Read full endorsement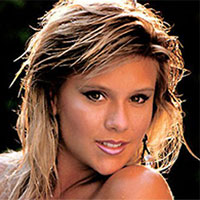 After ordering her ingredients from Thai Food Online, Sam Fox serves up a tasty meal and proves...
Read full endorsement