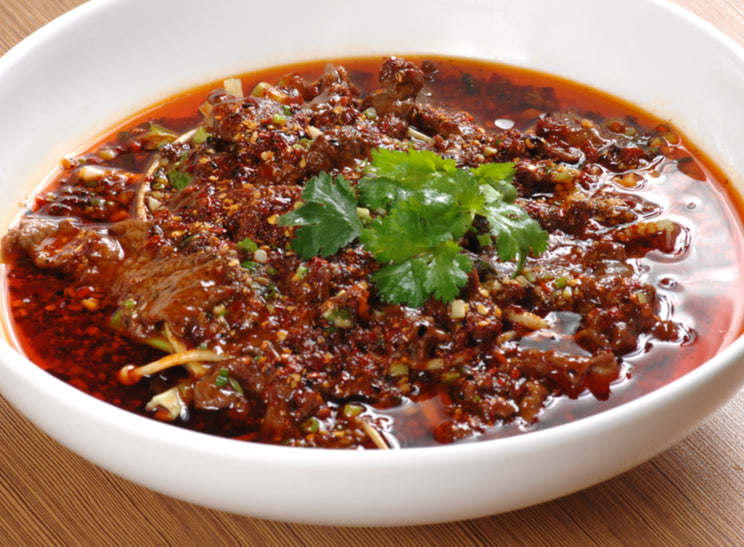 Order ingredients in 1-click
Please note that occasionally some products might be out of stock
Chinese Sichuan Boiled Beef (Shui Zhu Niu Rou)
---
Shui Zhu Niu Rou is a classic Chinese dish commonly known as boiled beef and originating from the Sichuan province and culture. While the idea of boiled beef doesn't sound particularly exciting, this meal offers a pleasant surprise of pungency and spice in true Sichuan style. Shui Zhu Niu Rou consists of tender beef slices, asian vegetables and a blend of dried chillies, chilli bean paste and of course Sichuan peppercorns, served in a bowl and topped with with hot oil which helps to release a flavoursome aroma and taste of all of the ingredients. 
The key to make the perfect sichuan boiled beef is to prepare the meat ahead of time, marinating with light seasoning and cornstarch to infuse it with flavour, ready to be boiled very quickly for about 30 seconds in the spicy broth. This ensures the beef stays soft and succulent while being sufficiently cooked and full of flavour. This dish can also simply be called Shui Zhu and made with other proteins such as pork or alternatively with mushrooms.
When this recipe is ready, it's assembled in a specific order. The cooked vegetables are served first to be at the bottom of the bowl, followed by the boiled beef spicy broth and topped with minced garlic, chillies, sichuan pepper and fresh from the wok hot oil. Sichuan boiled beef is a great Chinese recipe to enjoy during the autumn and winter months for a heat packed, spicy and warming meal.
INGREDIENTS (FOR FOUR PEOPLE)
MORE ABOUT THIS RECIPE

INSTRUCTIONS
Preparation Time: 20 minutes
Cooking Time: 20 minutes
Ready In: 40 minutes

1. Add the shaoxing wine, salt and beef slices to a bowl. Mix together and leave for 15 minutes to marinate.
2. Follow by chopping up the spring onions, pak choi and separate the enoki mushrooms.
3. Next, stir fry the dried chillies and Sichuan peppercorns in a wok with heated sesame oil for 2 minutes. Once fragrant, remove from the wok and set aside to cool down before chopping and grinding to serve later.
4. Follow by rehearing the oil in the wok and stir fry the chopped pak choi and enoki mushrooms with a pinch of salt for roughly 1 minute. Once cooked, serve in your desired bowl.
5. Now add 2 tbsp of sesame oil to the wok at medium heat. Stir fry the chilli bean paste until soft and fragrant. Follow by adding the dark soy sauce, chicken stock and bring to the boil before allowing to simmer.
6. Next add 3 tbsp of cornstarch to 3 tbsp of water and mix. Add this cornstarch water mixture to the beef slices and mix, before adding the beef to the wok to cook.
7. Once cooked, pour the beef and chilli paste broth over the vegetables in the serving bowl. Then sprinkle the chopped chillies and peppercorns. Heat any remaining oil in a wok quickly over a medium heat and pour this over the dish to serve.

NUTRITIONAL INFO
Amount per serving
Calories:

478kcal

Protein:

39.5g

Fat:

26.8g

Carbohydrate:

18.2g

Fiber:

1.6g

Sodium:

2081mg

Cholesterol:

144mg
Rated
4.9
/5 based on
412
customer reviews
CELEBRITY TESTIMONIALS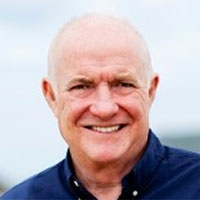 RICK STEIN

BESTSELLER AUTHOR
What's more, thai-food-online.co.uk has been listed as the recommended suppliers to get authentic...
Read full endorsement
Dean Banks

Master Chef's Finalist
My experience with Thai Food Online has been great so far.  I feel the pricing is so great compared to ....
Read full endorsement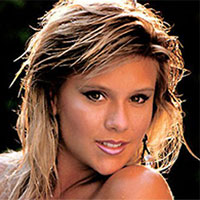 After ordering her ingredients from Thai Food Online, Sam Fox serves up a tasty meal and proves...
Read full endorsement